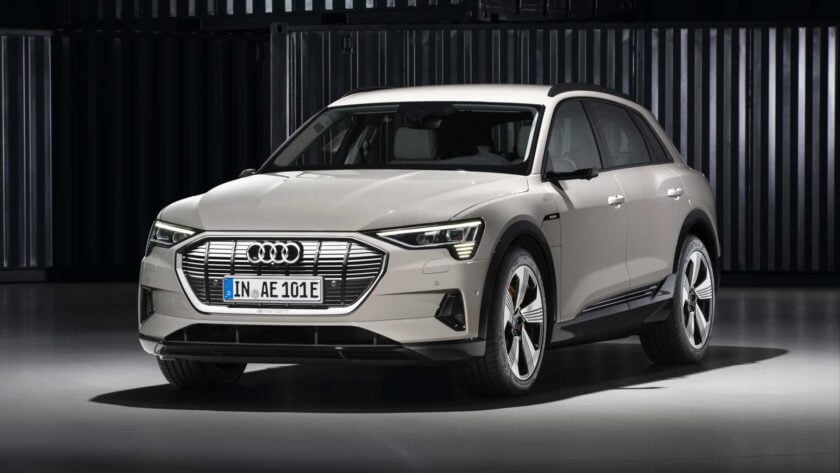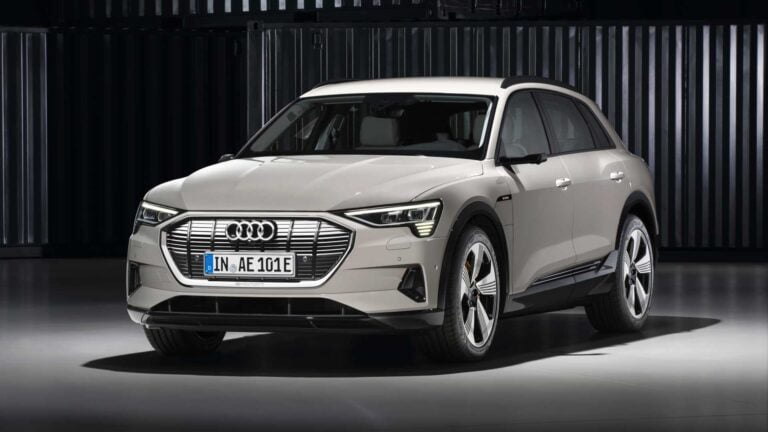 The world is changing! As car manufacturers move away from the evil gas-powered vehicles, electric cars are the new sustainable standard. And Audi has joined in on the fun! Read this guide for everything you need to know about
Audi's lineup of electric vehicles
.
What Electric Vehicles Does Audi Make?
Audi has been creating a decent lineup of electric vehicles in different styles. Currently, they offer nine different Audi electric vehicles to choose from.
Audi A6 e-tron
Audi Q4 e-tron
Audi e-tron
Audi e-tron GT
Audi Q4 Sportback e-tron
Audi e-tron S
Audi e-tron S Sportback
Audi e-tron Sportback
Audi RS e-tron GT
About the e-tron SUV
The
e-tron SUV
is the most popular and has also been around the longest. It's considered a luxury SUV and offers a clean and stylish look with powerful electric motors. The original e-tron has two electric motors, making it heavier than a typical gas-powered SUV. But Audi is releasing the e-tron S and e-tron Sportback, which have a sleeker style and will feature three electric motors for a more powerful vehicle.
About the e-tron GT
The
e-tron GT
is Audi's smaller four-door sedan with a more compact design but the same stylish and attractive appearance. Despite the popularity and success of the e-tron SUV, Audi plans to make the GT the new icon of their brand as they transition into electric vehicles. The GT features a 522 horsepower electric engine that can get it to 60 miles per hour in less than four seconds. So for those that want something a little wilder, this will be the new standard.
About the e-tron Q4
The
Q4 e-tron
is a more compact SUV. It has a lovely futuristic look that Audi believes will be the new standard for electric vehicles. It has a range of around 280 miles, making it one of the longest-running electric cars on the market, so you don't need to stop and power up every 50 miles.
How To Charge Electric Audis
All electric Audi models, excluding the original e-tron, use the industry-standard
J1172 plug type
for level 2 charging. But the original model of the e-tron is capable of
DC fast charging
using the SAE Combined Charging Connector (CCS) plug.
Audi Has Big Plans for Electric in the Future
Audi plans to pivot completely toward electric vehicles by 2026. They plan to phase out gasoline and non-electric cars to move with the times and become a trusted name in the electric vehicles industry. They aren't the only car brand that plans to do this, but they are planning it sooner than many other manufacturers. The sooner they make this change, the sooner they'll become a competitor with Tesla.
Audi's Charging Hub Concept
Audi
opened its first charging hub
in Nuremberg, Germany, at the end of 2021 to test the feasibility of these luxury charging stations in urban areas. The charging hub works on reservations, boasts a lounge, and has enough power to charge 80 Audi EVs daily. Audi plans to make these hubs a premium and luxury experience for those that drive their electric vehicles.
FAQs
Many have questions about the pricing and charging abilities of these new electric Audis. Below are commonly asked questions and the answers to them.
Does Audi have a fully electric car?
Not only are there fully electric Audis, but there are nine different fully electric models to choose from. And that doesn't include any of their hybrid vehicles.
Does Audi have an electric SUV?
Audi's most popular electric vehicle is the
Audi e-tron
, an SUV! It features three electric motors totaling 355 horsepower. There are other models of the e-tron to choose from as well, such as the GT, the S, and the Q4, which are all SUVs.
How much will the Audi EV cost?
The Audi EV prices range from $43,000 to $142,000, depending on the model and added features.
Which Audi models are electric?
The following are all of Audi's electric vehicles: Audi A6 e-tron, Audi Q4 e-tron, Audi e-tron, Audi e-tron GT, Audi Q4 Sportback e-tron, Audi e-tron S, Audi e-tron S Sportback, Audi e-tron Sportback, and Audi RS e-tron GT. Take a look at this video if you'd like to see the RS e-tron GT's interior, exterior, and what it looks like on the road.
What is the charging time of the Audi EV?
The charging time of the different Audi electric vehicles varies based on the model and the battery charger you use.
Using a 120-volt level 1 charger can take up to three days to charge electric Audi vehicles. With a 220-volt, you can expect a full charge after nine and ten hours. And with a high-end 480-volt DC fast charger, the battery can fully charge in just 30 minutes.