Switching to an electric vehicle (EV) is a great way to save money on gas and reduce your carbon footprint. Tesla is arguably one of the most popular EV brands in the world, but more and more car manufacturers are creating excellent EVs.
Knowing where to charge your EV is essential. There's nothing more frustrating than getting a Tesla charging cable and realizing the cord isn't long enough to reach your EV from the source.
To prevent this frustration, investing in an EV charging extension cord is a good idea. You might not need to use it all the time, but having it on hand can be a lifesaver.
What Are the Best Extension Cords for EV Charger?
You'll find hundreds of extension cords that will work for your Tesla and other electric vehicles. To save you some time and frustration, we've rounded up six of the best charging extension cords on the market. This video can show you how to use an extension cord to charge a Tesla.
Tesla Charging Cable
GearIT's extension cord is one of the best Tesla extension cords because it comes in three different lengths. You can buy it on Amazon and get it in 10, 25, or 50 feet. Most people opt for the 25 or 50 feet option since it can reach further, and the 10 might not work in all situations.
The Tesla cord has 30 amps and is designed explicitly for Tesla Models S, X, 3, Y, and RVs. It can connect to NEMA 14-30P and 14-30R connectors, allowing fast charging.
Depending on your length, you'll get between 125 to 250 volts. You'll love the lifetime warranty included with this Tesla Model S charging cable.
Tesla Charging Cord
Another great Tesla charger extension cord is this one by Ceptics, which is available on Amazon. This one is on the expensive side, but it works well with other EVs too. It's 50 feet long, so you'll never have to worry about it not reaching.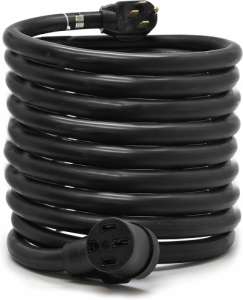 It has a NEMA 14-50L adapter which is compatible with many Tesla models. It's weather resistant, so you can charge it rain or shine. With this cord, you'll get fast charging compatibility with 125 volts and 50 amps. The best part is that this extension cord has a lifetime warranty.
If you're not interested in the Ceptics extension cord, the Besenergy one is another high-quality option. It works with a J-1772 charger that reaches 20 feet.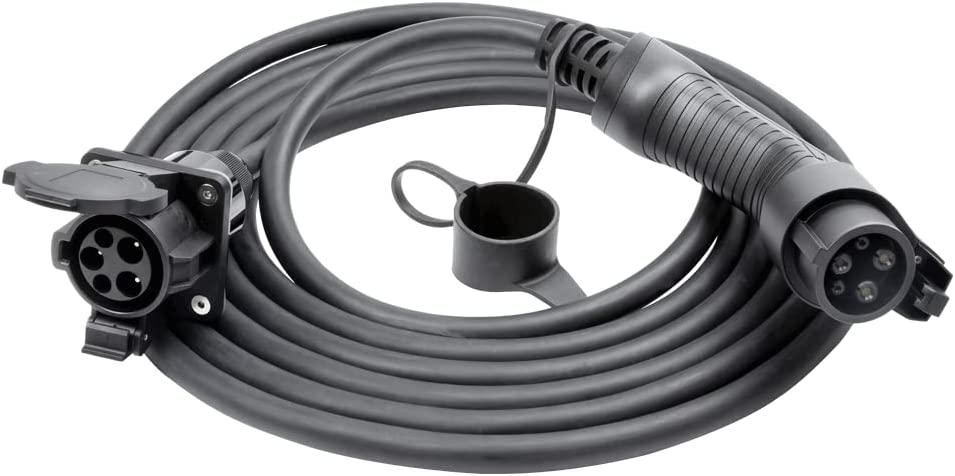 You'll get up to 40 amps with this Tesla extension cord (240v). It's also waterproof, so you don't need to worry about charging your EV in the rain.
Extension Cord for EV Charger
Inteset's extension cord for EV chargers is top-notch. You can choose between 12, 21, and 30 feet with this EV extension cord. It has 40 amps and works well with level one and two EV chargers.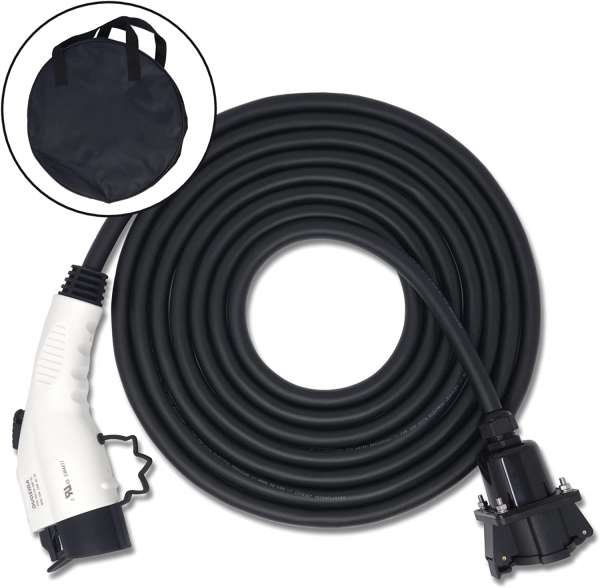 It's compatible with vehicles that work with the J-1772 extension cable connectors. You'll also get a two-year warranty with this extension cord.
CircleCord on Amazon is a great option too. The 25, 40, and 50 feet variations all come with a locking mechanism that won't fall off while you're charging your EV.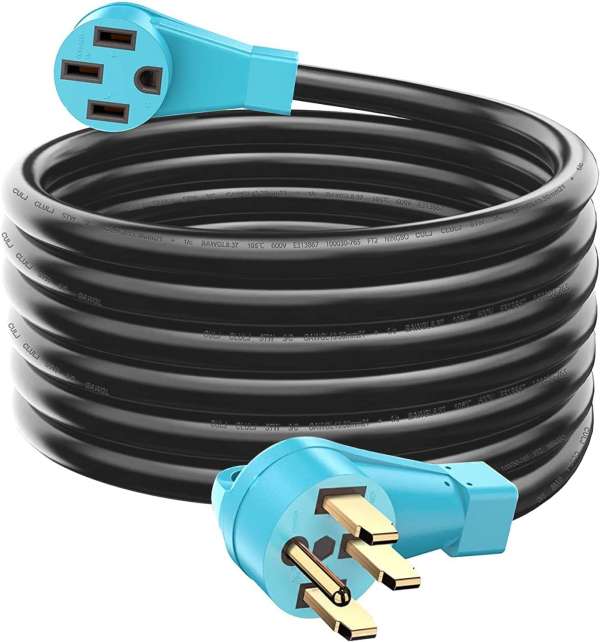 Regardless of the extension cord you choose, you'll get 125 volts and 50 amps. It's easy to wrap up and store when you're not using it, which is helpful.
EV Charging Cord
A great EV charging extension cord for your Tesla or other EV is this one by Lectron. According to EvoCharge, this level 2 EV charger extension cord is 21 feet long. You'll be able to connect to anything that works with a NEMA 10-30 charger.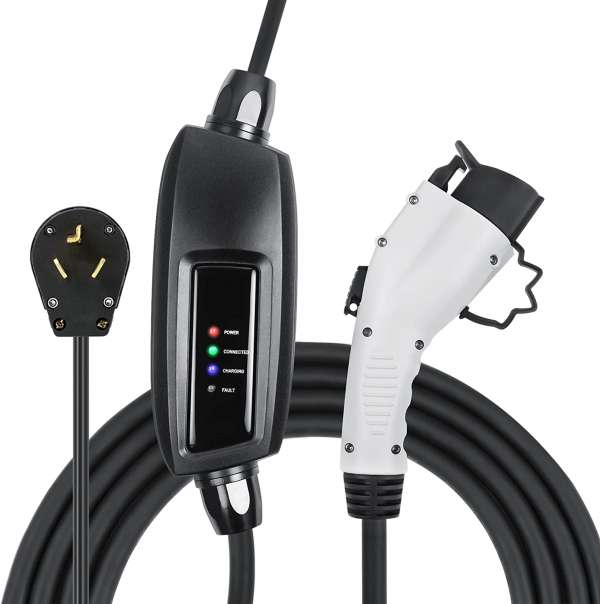 Lectron's extension cord has 240 volts which will supercharge your EV faster than some of the others on our list. It has three times the charging speed of other EV charging cords. You'll have a one-year warranty if something happens to the cord or it comes damaged.
EV Charger Mounts
Seven Sparta's or BMXZ's are the best options if you're looking for an EV charger mount. Charger mounts are an excellent option for those who have long extension cords and want to keep them out of the way but are easily accessible.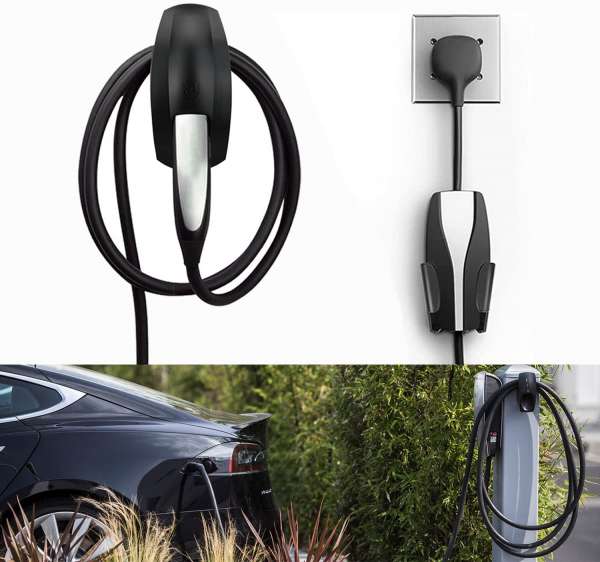 Seven Sparta's charger mount and EV charger cable organizer works for many Tesla models, specifically Models X, Y, S, and 3. It comes in black and gray, so you can let it blend into your wall regardless of which one you choose.
It's super easy to install on your wall and doesn't damage it when you need to take it down.
The BMXZ charger mount is another great option. You can choose a charger mount or a charger mount with a holder and charger slot.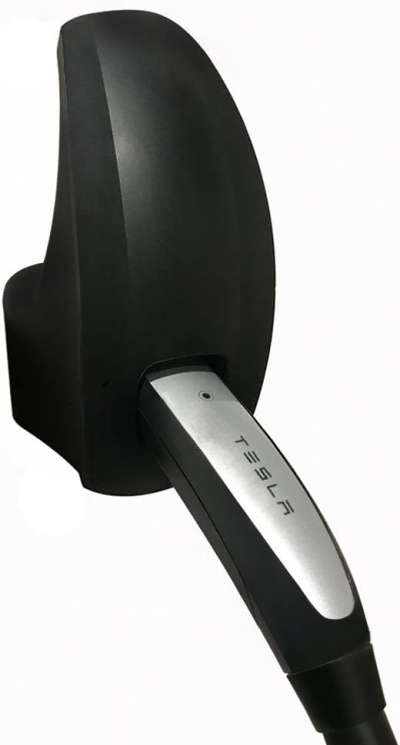 Both are a great price and worth considering in conjunction with any of your EV chargers and extension cords. It's compatible with the same Tesla models that the Seven Sparta charger mount works.
Frequently Asked Questions
See what other EV users are asking if you still have questions about the different EV charging extension cords.
Can I charge my EV with an extension cord?
Absolutely. You only need an extension cord if your vehicle and charger cannot reach one another without an extension cord. Keep in mind that it is not advisable to use an extension cord that is not compatible with your EV.
What cable should you use for an EV charger?
Mode 3 cables are the best to use for any EV charger. These cables can connect your car to any EV charging station.
Is it OK to charge a Tesla with an extension cord?
Even if the company advises you not to use an extension cord, since it could be a fire hazard, it is still acceptable as long as you find ones that are made precisely for Tesla chargers.
What kind of extension cord do I need to charge a Tesla?
You can use any compatible extension cord, but the Ceptics GN-CD Auto extension cord is a great option.
What size wire do I need for an EV charger?
The wire you'll want to look for in an EV charger is an insulated copper wire. For charging lengths that are up to 32 ft, a 4mm 32 A cable will be enough. However, for those that are longer than 32 ft, it may be best to use a 6mm cable.
Can you use an extension cord with a Level 1 EV charger?
Yes, you can. This can connect to any outlet in a household. You will just have to make sure it's compatible with your charger. If your cord is still not long enough to reach your car, you may need to use two extension cords.