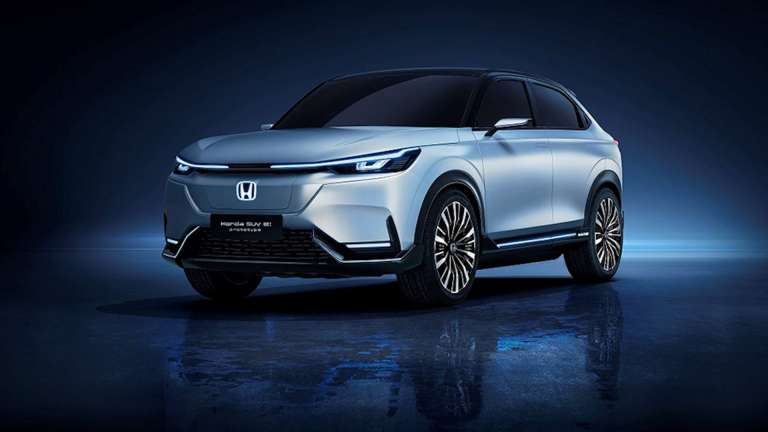 Wondering if you can purchase a Honda EV in the U.S. yet? Unfortunately, the short answer is no; you can't buy an electric Honda—yet. Nonetheless, you can get different Honda hybrids. But if you can wait, a few Honda EV models will be out by 2024, according to
CNN
.
How Many Honda EV Models Will Launch?
According to
TechCrunch
, Honda plans to launch 30 electric vehicle models by 2030. In 2024, Honda will have two electric models in North America. The Honda EV models will be in the mid- to large-size vehicle class. Both electric Honda models will be SUVs and will launch under a partnership with General Motors. One SUV will sell under the Honda brand, and the other vehicle will use Honda's luxury brand name, Acura. Per
Honda's website
, the auto giant plans to make two-thirds of its global vehicle sales electric by 2030.
What Honda Electric Vehicle Model Can I Expect?
According to
Autoweek
, Honda's SUV model will go by the name of Prologue. The sports utility vehicle will feature Ultium batteries. These batteries come from General Motors and will require charging for the car to run. Check out the video below for a preview of the Honda Prologue.
Unlike hybrids, an electric Honda does not have gas as a backup fuel source. Owners of a 2024 Prologue will need to plug in at charging stations to "refuel." Currently, the availability of plug-in charging stations can vary across the United States. So, if you plan on buying a Honda electric vehicle in 2024, you might want to install a charging station in your garage. Honda and General Motors have yet to release the full specs on Prologue's expected battery life and mileage.
FAQs: Questions to Ask and Answer
Honda lovers who are on the fence about transitioning to electric might not want to wait too long. The automaker plans to phase out its gas vehicles by 2040. According to
Car and Driver
, Honda will switch to zero net emission vehicles by 2030 or 2035. That likely means more hybrids before the 100% switch to Honda EV models.
Does Honda Have a Fully Electric Car?
Honda does have fully electric cars in other markets. In Europe, current and previous Honda electric vehicle models include but are not limited to:
1997's Fit EV-Plus
2012 Fit EV
Clarity Electric
Honda e
Does Honda Make an Electric SUV?
No, Honda does not currently make an electric SUV. However, as previously discussed, this will change by 2024.
How Much Will the Honda EV Cost?
Some of the specifications for Honda's upcoming electric SUVs remain up in the air. The price of the Honda Prologue and the Acura electric SUV is one of those pending specs.
Which Honda Models are Electric?
Right now, there are not any 100% Honda electric vehicles in the U.S.