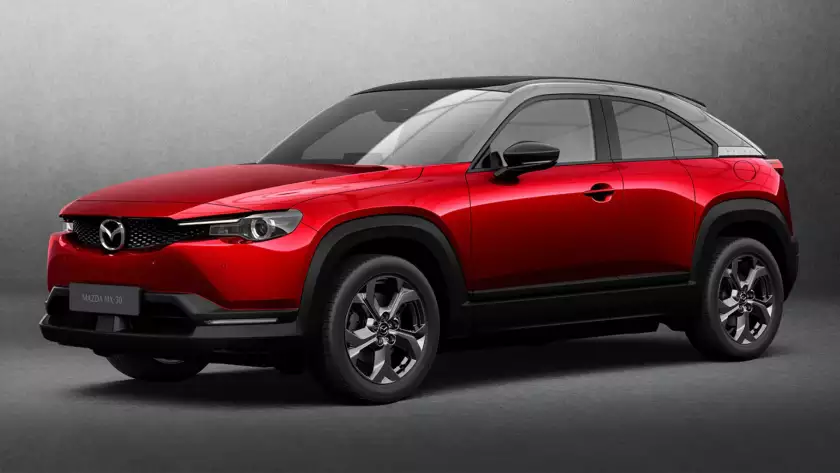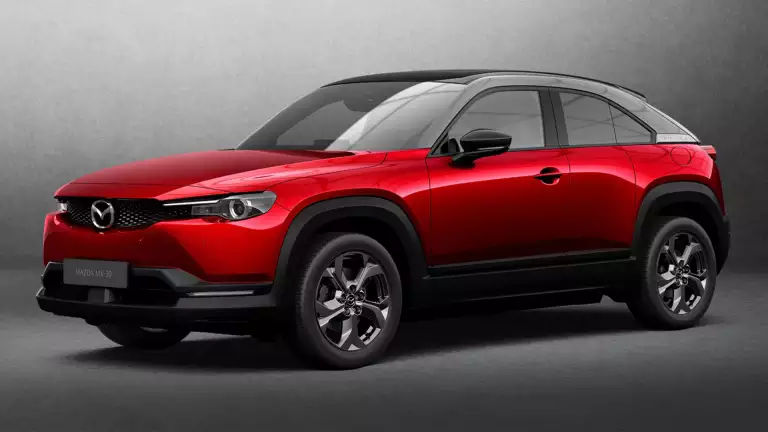 Today, Mazda's first-ever fully Electric Mazda is the future of simplistic travel. It blends recycled threads and e-Skyactiv technology into a comfortable crafted vehicle you have to drive. You can see for yourself in the video below.
It made waves at the 2019 Tokyo Motor Show, and now it's intuitively revamped.
When Will Mazda Have an Electric Car?
After years of stringent safety testing, the new 2022 Mazda MX-30 EV is ready to be your chauffeur catching those blind spots when you miss them and detecting lane markings to ensure you stay in your lane. In addition to this, its robust frame has the ability to absorb crash energy. The Mazda electric vehicle is available this year.
The Interior Design Inspired by Kodo
The MX-30 revolutionizes comfort with respect for human shape. It gives you the option to customize your electric Mazda for the perfect fit.
The Mazda EV features a floating console that creates a comfortable atmosphere for a leisure commute instead of the traditional high-quality outfitted consoles in a classic car.
And it pairs eloquently with the MX-30 ergonomic infused gauges that don't distract your focus. Instead, they help you be a safer driver.
Exterior Design Made Simple To Drive
The MX-30 greets the driver with fully functional pillarless rear-hinged freestyle doors that open outwardly from the center.
And you can easily fast-charge your Mazda EV at home or any public space with its universal type 2 (7-pin plug) cables. You can connect your charge to any regular wall socket using a 3-pin plug. However, charging stations will charge your Mazda EV in less than 45 minutes.
The Mazda MX-30 is stylish and compact with a crossover roofline, refined headlights, and cylindrical LED tail lights.
Other unique features include:
G-vectoring control delivers audio feedback synced to motor torque that helps you hear your drive
5 kWh high-voltage lithium-ion battery strategically arranged under the cabin floor to optimize 100 miles per charge
Smart Brake Support enhances collision prevention
FAQ
Does Mazda Have a Fully Electric Car?
This fall, the new 2022 Mazda MX-30 Electric Vehicle will be available across the country.
Does Mazada Have an Electric SUV?
Yes, the 2022 Mazda MX-30 EV and the Premium Plus edition.
How Much Will the Mazda EV Cost?
The Mazda MX-30 starts at $33,470, and the Premium Plus edition pricing starts at $36,480.
Which Mazda Models Are Electric?
Mazda's all-new 2022 Mazda MX-30 is Mazda's first-ever fully electric vehicle.