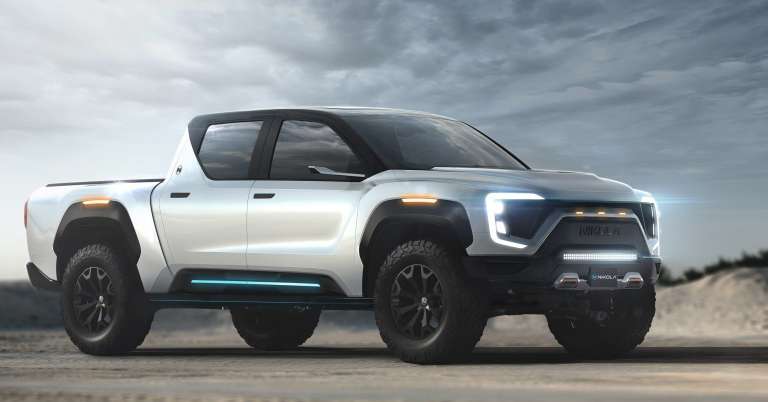 Nikola is a vehicle manufacturer that produces heavy-duty commercial vehicles, and all are electric. It started in 2016 with zero-emission vehicles and currently has two battery-powered trucks on the market.
What Nikola EV Are on the Market?
Nikola has three entirely electric semi-trucks. They make battery electric vehicles (BEVs) and zero-emission vehicles (ZEVs).
The company unveiled the Nikola One in May 2016. It's a semi-truck with a sleeper cab. Powered by hydrogen, the truck can pull cargo weighing up to 80,000 pounds. With a full charge, it can drive 1,200 miles.
In 2021, they started production of the Nikola Two. It has 1,000 horsepower and 2,000 pound-feet of torque. The horsepower alone makes it twice as efficient as any other semi-truck. It can drive up to 750 miles on a single charge and produces zero emissions.
The Nikola Tre came into action at the end of 2021. The truck can drive 350 miles on a full charge and refuels in just two hours. It can hit speeds up to 75 miles per hour, making it ideal for highway transportation.
The company took time to develop its concepts and now has 11 semi-trucks out. They have orders for hundreds more and plan to produce and deliver 30 in 2022. The manufacturer plans to scale production to eventually make 300 to 500 electric trucks a year.
How Do You Charge the Nikola EV?
Nikola electric trucks can charge in just two hours with a 240 kW DC charge rate. You can charge the trucks at any standard charging station. You can also install an electric vehicle charger at your business.
The company has also created a Mobile Charging Trailer (MCT). Instead of needing a charging station—either in public or on your business property—an MCT charges the trucks where they are. The 16-foot trailer can charge two to four trucks each day.
FAQ
Does Nikola have a fully electric truck?
Yes, Nikola makes semi-trucks that are fully electric. They can haul thousands of pounds of cargo while remaining energy-efficient and getting a good mileage per charge.
Does Nikola have an electric SUV?
No, Nikola does not currently produce electric SUVs at this time.
How much will the Nikola EV cost?
When the company was developing the Nikola Badger, an electric pickup truck, they said the price would start at $60,000. But since their other trucks are semi-trucks sold to businesses, the price is much higher. Each semi costs around $270,000. However, California offers an incentive that saves purchasers $120,000 per Nikola EV truck.
Which Nikola models are electric?
All Nikola trucks are electric. The company has made trucks such as:
Nikola One
Nikola Two
Nikola Tre
They also proposed a Powersports division that would include three electric sports vehicles. Two were off-highway vehicles called the Nikola Reckless and the Nikola NZT. The Nikola WAV was an electric jet ski. The company also had the Nikola Badger, a pickup truck, in the works until General Motors revised their agreement with Nikola.