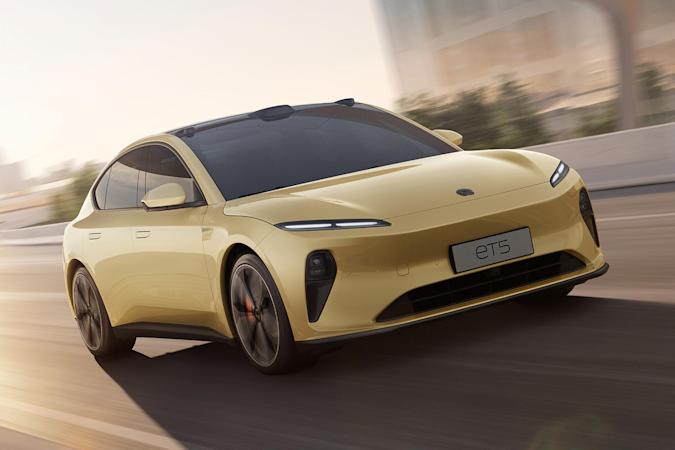 NIO is a Chinese automobile manufacturer in Shanghai that has taken the world by storm as they create smart electric vehicles with innovative charging solutions. Though not yet available in the United States, let's look at what we can expect when these EVs roll out in 2025.
What Are the Best Features of the NIO EV
Aside from the comfortable interior, sleek design, and smart features such as the NIO app, infotainment system, voice commands, and efficient MPG, NIO electric vehicles are known for battery swapping.
Many EV drivers experience some form of anxiety about charging their batteries in the middle of a trip or worry about losing juice when they're far away from a charging station. NIO has spearheaded the movement in China, with over 700 battery swap stations.
It's simple; you drive your car into one of the stations, a staff member drives your car into a contraption that lifts it into the air, and they install a fresh battery. The whole process takes less than five minutes since the batteries unscrew easily.
There are also multiple ways that you can choose to charge your NIO EV outside of this, giving you versatility.
Watch this video to find out more about this model!
How Long Does It Take the NIO Electric Vehicle To Charge
It depends on which of their vehicles you select, as some are bigger than others, and the bigger the battery, the more time it takes to charge. However, the ES8, for example, takes 58 hours to charge from empty to 100 percent if you use a level 1 charger (1.9 kW).
The battery has a capacity of 100 kWh, so you can charge it for between five to ten hours if you have a level 2 charger that you can use at a charging station (11-22 kWh).
Fast charging mode at a charging station gives you an 80 percent charge in around 45 minutes. There's also the option to have a rescue van come out to wherever you're stranded to recharge your vehicle.
What Type of Plug Does the NIO EV Use
The NIO electric vehicles have a power charger that can get up to 180 kW at 250 A. They generally use a type 2 connector, the typical European-style plug that all new EVs use. You can use this plug at most public car charging stations and home charging systems.
FAQs
Here are the responses to the most commonly asked questions regarding NIO electric vehicles:
1. Does NIO have a fully electric car?
NIO has six fully electric vehicles that have innovative battery charging options. They are set to release these vehicles in the United States for sale in 2025.
2. Does NIO have an electric SUV?
The NIO ES8 is an all-electric, six or seven-seater full-size Sport Utility Vehicle manufactured by NIO. They also have the NIO EC6, an electric coupe SUV, and the ES6, an all-around electric SUV.
3. How much will the NIO EV cost?
The NIO electric vehicle models will range in price from around $57,000-$80,000 by the time they become available in the United States.
4. Which NIO models are electric?
NIO currently makes six electric models. They are:
The NIO ET5 (mid-sized Sedan)
The NIO ET7 (flagship SUV)
The NIO EC6 (coupe SUV)
The NIO ES6 (all-around SUV)
The NIO EP9 (sports car)