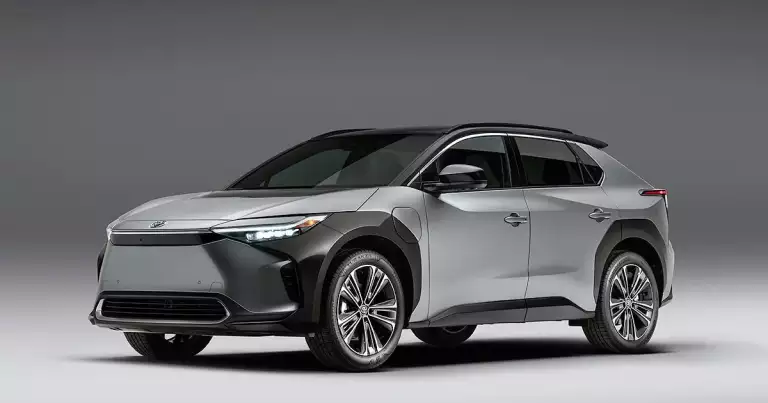 The world of electric vehicles (EVs) is much more than having an automobile that requires charging before use. Toyota offers an expansive electrified line-up to suit any driver's needs using fuel cells, hybrids, and more.
Here, we explore each option in detail to give you a better understanding of the Toyota EVs, along with their features and options.
What Makes Toyota Electric Vehicles Stand Out?
Today, over 30 different manufacturers produce electric vehicles, so what makes Toyota EV models stand out against the competition?
Firstly, the Toyota brand is a well-known name in the auto industry. Their reputation among consumers is highly favorable, according to Consumer Reports, for continuous offerings of reliable, efficient, and durable vehicle options.
As gas prices continue to skyrocket worldwide, more drivers are exploring electric alternatives, including the Toyota Electric Vehicle line-up. In addition, they remain a constant in the auto industry as manufacturers of high-quality, safe vehicles.
Does Toyota Have an EV Car?
Toyota has various EV choices, ranging in size, cost, and features. Take a look at the numerous choices Toyota has for its electrical-driven models.
All-Electric
Fuel Cell Electric
Hybrid
Plug-In Hybrid
All-Electric
Toyota uses a battery-electric powertrain for its All-Electric models. As a result, they do not compromise quality or safety and maintain a powerful yet silent operating vehicle that drivers like you want and need.
Additionally, these All-Electric vehicles produce zero emissions and operate with a charge, eliminating the use of a gas station entirely.
Fuel Cell Electric
Toyota incorporates innovative technology in their Fuel Cell Electric vehicles. These models combine Hydrogen with Oxygen from the air outside to generate power without creating harmful emissions. All you will see from the tailpipe is water.
The Fuel Cell Electric models do not need charging either. After a short five-minute refueling stop at a hydrogen station, you are ready to hit the road again.
Hybrid
Toyota ensures optimal customer satisfaction with their Hybrid vehicles. Offering an enhanced Hybrid battery warranty, models starting in 2020 and forward will come with a 10-year or 150,000-mile warranty.
These Hybrid vehicles include an Eco Mode for maximum fuel efficiency. They also allow you, the driver, to have complete control over operation with its 4-Mode Drive Switch. You can choose from EV, Eco, Normal, or Sport mode to individualize your driving experience.
Plug-In Hybrid
Toyota drivers who do not want to compromise power for the economy will love the Plug-In Hybrid models. Its advanced gas-electric powertrain provides the power and response you need in a durable vehicle.
To get on the road with a Plug-In Hybrid, drivers can use three different charging options, including 120-volt, 240-volt, and DC Fast Charging methods. Each option will vary in charging time, providing various advantages for drivers.
Which Toyota Is Fully Electric?
Toyota does offer an all-electric vehicle with its bZ4X model. This option comes in XLE and Limited editions, giving drivers a choice of attractive features. In addition, you will not have to visit gas stations anymore for fuel when choosing this full electric Toyota model.
Watch the video to find out more about this Toyota model!
Does Toyota Have an Electric SUV?
Yes, Toyota does have an Electric SUV in its line-up in its bZ4X model. Fun fact about the 'bZ' in its name stands for 'beyond zero', which is the goal of the company to reach carbon neutrality by the year 2050.
Alternatively, Toyota currently offers several hybrid SUV choices for drivers looking for a versatile electric SUV. For example, you can select the RAV4, the Highlander, or the Venza models, which all boast exceptional fuel efficiency even when it no longer has a charge.
How Much Will the Toyota EV Cost?
If you are considering the Toyota bZ4X SUV model, start at $42,000 for the introductory model, and it can extend up to over $53,000. However, keep in mind that any extras or customizations will increase the final price tag.
Is Buying a Toyota EV Worth It?
According to Niraj Chokshi of the New York Times, EV models may cost more money upfront and require additional power outlets in the home, but overall they are more cost-effective.
These EVs do not have the costly maintenance or repair costs of traditional gas-powered options. Drivers will also save time and money by eliminating frequent gas station visits from their daily schedule.
What Is the Charging Time of a Toyota Electric Vehicle?
Charging times will depend on the type of power source you are using and the battery size of your electric vehicle. Toyota uses three charging levels to provide drivers with versatility.
The first level uses a 120-volt standard 3-prong outlet. This option is the best for drivers that do not perform long drives and have short commutes within the city.
You can charge your car anywhere with a 120-volt output making it practical. However, it is extremely slow. For example, it can take up to 24 hours to completely charge a Toyota EV this way.
The next level is through a 240-volt charging outlet. Thankfully, a licensed electrician can easily set up these power sources at your home.
Alternatively, if you do not want it at home, there are a few level 2 charging stations around the United States for public use. This option is five times faster than 120-volt chargers and can take between 3 and 12 hours to charge completely, depending on the battery size.
At level 3, Toyota offers the DC Fast Charging method, which is the quickest way to charge your vehicle. In only 20 to 30 minutes, your Toyota Electric Vehicle will be ready to hit the road once again.
Unfortunately, it is only available in public charging stations and only works for the bZ4X vehicles at present.
Frequently Asked Questions
If you have any other questions about Toyota EVs, check out these frequently asked questions below.
Are All-Electric Models Cheaper Than Hydrogen Fuel-Cell Vehicles?
Although Toyota does offer both an all-electric vehicle and fuel-cell varieties, owning an all-electric EV model is still less expensive than hydrogen options. Drivers can also expect low electricity costs when charging their vehicle during off-peak hours for an additional benefit.
How Many EVs Will Be on the Road in the Next Decade?
According to automobile executives, they predict that by 2030, approximately 52% of new vehicles purchased in the market will be EVs.
How Far Can a Toyota EV Travel?
The range a Toyota EV can travel before it requires a charge will depend on the size of the battery. Although the hybrid models will offer a significantly shorter range, other vehicles can travel substantially farther.
For example, Toyota boasts that their bZ4X All-Electric vehicle can go up to 250 miles before requiring a charge. This impressive distance makes it an attractive option for many drivers.
Closing Thoughts
We are looking at an electric vehicle revolution, and auto giants like Toyota are making progress in the industry. This change is inevitable, and as time passes, we will start seeing the most prominent car manufacturers move away from fossil fuel models to full electric ones.
Although there is still an abundance of fuel-driven vehicles in the market, electric vehicles are breaking ground every day. However, it may surprise you if one day having a gas-powered model in your garage will be a rare occurrence.