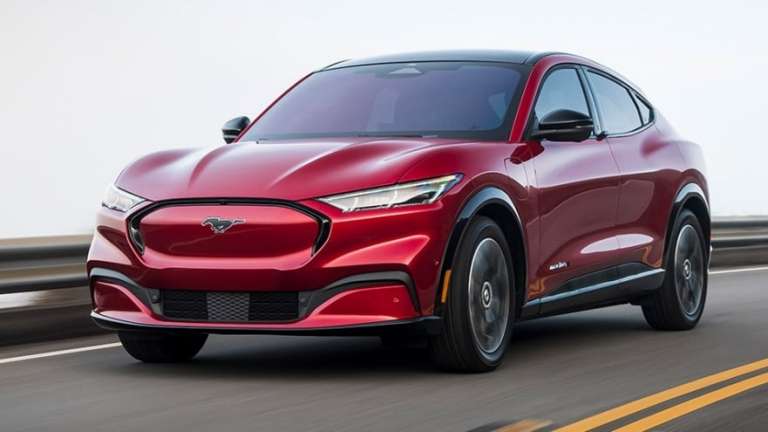 New clean-energy cars with modern styles are ramping up in full force. With the new 2022 lineup of electric vehicles, Ford has firmly earned itself a place in the race toward electric vehicle manufacturing. As reported by Reuters, Ford aims to be the second-largest EV producer within the coming years. Pairing elements of individuality with the familiar Ford quality has created a wave of popularity for these new electric cars.
Ford's Three New Models Raise the Bar for the All-Electric
Ford recently split the company into two sectors to allow for inventive and traditional models, says the New York Times. This business move allows Ford to divert attention in multiple directions without losing traction in gas-powered production or electric innovation.
With three electric vehicles to reach a broad range of customer interests and needs, these electric cars demand attention from every angle.
What is the Mustang Mach-E?
Following the sleek and powerful legacy of the Ford Mustang, the Mustang Mach-E introduces innovation and familiarity. We are especially impressed with the continuation of this muscular silhouette in keeping with its Mustang predecessors.
Featuring a front trunk and a rear trunk, a panoramic sunroof, a tablet display, and a luxury interior design, this vehicle brings improvements beyond the all-electric motor, securing this electric crossover a spot among the best new electric cars.
What is the Ford F-150 Lightning?
Long-time lovers of F-series trucks will not be disappointed with the Ford F-150 Lightning. With the unstoppable pairing of long-lasting electric power and intensive commercial capabilities, this truck paves the way for an even more capable rig.
This truck is outfitted with the most recent technology like remote software compatibility, modern displays, and intelligent range capabilities. You will find no compromises in strength with a maximum payload of 2,000 pounds, towing capacity of 10,000 pounds, and lightning speeds.
What is the Ford E-Transit?
Just like Ford's best-selling commercial gas-powered vans, the Ford E-Transit delivers on capability, customization, and storage capacity. Complete with an intentionally-designed seating area, functional cargo space, and up to 3,800-pounds maximum payload, this van performs for you.
I appreciate Ford's commitment to customization with this electric work van, with just as many options as the Transit Van. You can choose three roof heights and three body lengths for the cargo van. There are also electric chassis cab and cutaway models to suit your exact needs.
How Much Will Ford EVs Cost?
For these cutting-edge electric vehicles, you will find that there are many affordable prices across all three electric models.
The 2022 Ford Mustang Mach-E starts as low as $43,895, according to Ford.
The 2022 Ford F-150 Lightning starts as low as $39,974.
The 2022 Ford E-Transit starts as low as $46,295, according to Ford.
Ford Sets the Standard With Mileage and Charging Availability
Ford introduces three electric vehicles that offer a competitive range, charging capabilities, and public networks. See below for a comparison of each model.
What is the Range for an Electric Ford Model?
The Ford Mustang Mach-E has a range of around 300 miles on a full charge.
The estimated range of the Ford F-150 Lightning is 320 miles, says Ford.
The targeted range of the Ford E-Transit is up to 126 miles.
How Long Do EVs Take To Charge?
Using a Ford Connected station or Mobile power cord, Ford electric vehicles will take between 10-15 hours to charge fully. However, a 150kW+ DC fast charger can charge over halfway in under an hour.
What Type of Plug Do Ford EVs Use?
Every electric Ford model comes with a Ford mobile charger that functions within the home. When plugged into a 240V wall outlet, your car can receive 32 amps of power. When plugged into a 120V wall outlet, your car can receive 12 amps of power.
Users can also hire an electrician to install a Ford Connected charging station in their garage or driveway area. This system is hardwired for a 240V connection with 48 amps of power and a full charge in under 11 hours.
Where Are Ford Charging Stations Located?
According to
Ford
, the BlueOval Charging Network boasts the largest charging system in North America at an impressive 19,500 stations. Owners of a Ford EV can use the FordPass app to find the most convenient charging stations. Users can identify which stations are free, the charging speeds, and even nearby amenities to make the charging process as easy as possible.
What Is Plug & Charge?
In collaboration with participating stations and the FordPass system, owners of Ford EVs can plug in their vehicles and automatically pay through the BlueOval Charge Network. With this program, users no longer need to pay separately each time they charge but can be billed automatically with ease.