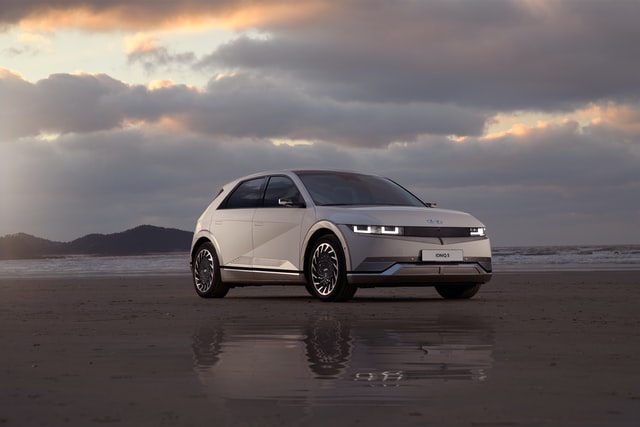 The IONIQ 5 is Hyundai's first exclusively electric vehicle, and it will be the first of many to come. IONIQ will be the name for the many series that will come after the Hyundai IONIQ 5 EV. So what is all the hype about? Is this Hyundai electric vehicle good?
What Is Powering The 2022 IONIQ 5?
The entire IONIQ series will be built on the Electric Global Modular Platform that the IONIQ 5 is. The IONIQ 5 has a fully electric powertrain with a power output of 125 kW (standard model) and 168 horsepower. Hyundai's EV also has a 258 pound-feet of torque and a mileage of 220 miles.
There are also more powerful configurations available. With a longer-range battery, the power output of the rear-wheel-drive can reach 168 kW and 225 horsepower. While the rear-wheel-drive has better mileage, especially with a better battery, the all-wheel-drive beats it out in power.
With an all-wheel drive, the EV gets a lower mileage of 256 miles but gains a power output of 74 kW + 165 kW (dual motor) and a whopping 320 horsepower. It also gains a torque of 446 pound-feet. With this setup, the Hyundai IONIQ 5 can reach 0 to 60 mph in just under 5 seconds.
What is the Charging, Battery Life, and Fuel Economy Like?
The battery system capacity for the standard range IONIQ 5 is 58 kWh, while the more expensive trims have a capacity of 77.4 kWh. The 58 kWh battery can charge within 5 hours, while the 77.4 kWh battery can charge within 6 hours and 43 minutes. This is with an AC Level II, standard 240V outlet.
But with rapid charging, it is so much faster. When charging at an 800V outlet, it takes only 18 minutes to get from a 10% to 80% charge. This is thanks to its ultra-fast charge cable, which can handle an output of 800V/350 kW.
The fuel economy on the IONIQ 5 EV is good, with the long-range battery and RWD, it has an EPA rating of 114 MPGe. With the standard range and RWD, it gets a rating of 110 MPGe. The IONIQ 5 has turned out to be a very fuel-efficient EV.
What Does The Interior Feature?
Inside the IONIQ 5, you'll find that you will have plenty of space for cargo, people, and everything else. And in that space is quite a luxurious interior with top-of-the-line materials for the seats and impressive technology.
The steering wheel of the IONIQ 5 is leather-wrapped and features audio controls, Bluetooth, and heating. The stain-resistant cloth seats are heated and have seatback pockets for extra storage space. Inside the higher-priced trims, the seats are H-Tex leatherette. The interior also features:
A 12.3-inch HD Touchscreen navigation system
A 12.3-inch digital instrument cluster with EV Technology display
A Bluetooth Multiple Device Connection (up to two devices)
A rear view monitor with parking guidance
Wireless device charging
Bose premium audio with external amp, and eight speakers
As you can see the inside of the IONIQ 5 is luxurious, but have they put as much work into safety?
What Are The Safety Features?
The IONIQ 5 features a good amount of driver-assistance technology, with the key focus being the Highway Driver Assist 2. This assist is a Level 2 autonomous drive mode that can drive and switch lanes with little driver intervention.
Adaptive cruise control, lane-departure warning, lane-keep assist, forward collision warning, and automated emergency braking are all featured. To see a more in-depth analysis of these features, watch this youtube video by Kondor.
Is The Hyundai IONIQ 5 A Good Value?
In the end, the Hyundai IONIQ 5 has proved its worth, even at its base MSRP. The build quality is outstanding and speaks a lot about the future of Hyundai and EVs. Be aware that the IONIQ 5 is in extremely limited availability.
Frequently Asked Questions
Does Hyundai Have a Fully Electric Car?
Yes, it is the 2022 Hyundai IONIQ 5. Every future EV will be named IONIQ.
Does Hyundai Have an Electric SUV?
Yes, the IONIQ 5.
How Much Will the Hyundai EV Cost?
Starting MSRP for the Standard Range trim will be $39,950. There is also an SE trim starting at $44,000, and SEL trim starting at $46,250, and Limited trim starting at $46,250.
Which Hyundai Models Are Electric?
All models with the moniker IONIQ.
Can You Power Other Things With the IONIQ 5?
Yes, it has available 120V outlets to supply power inside or outside for electric equipment or appliances.