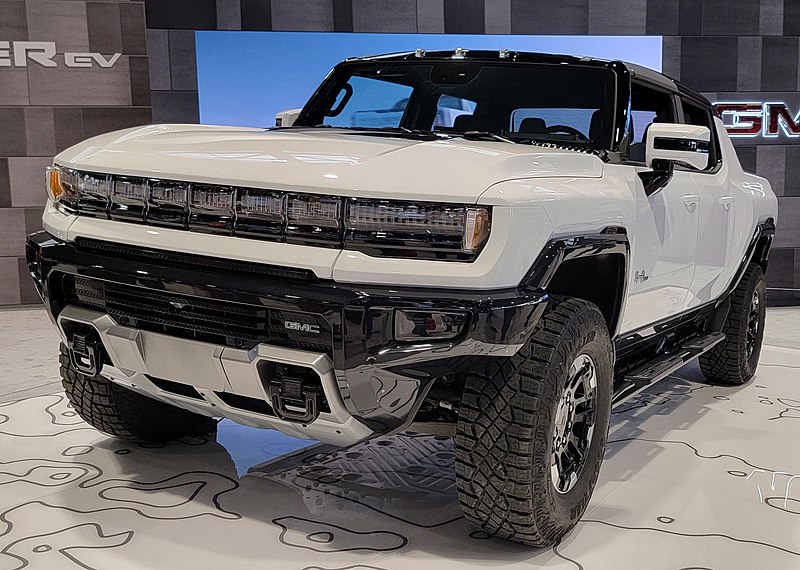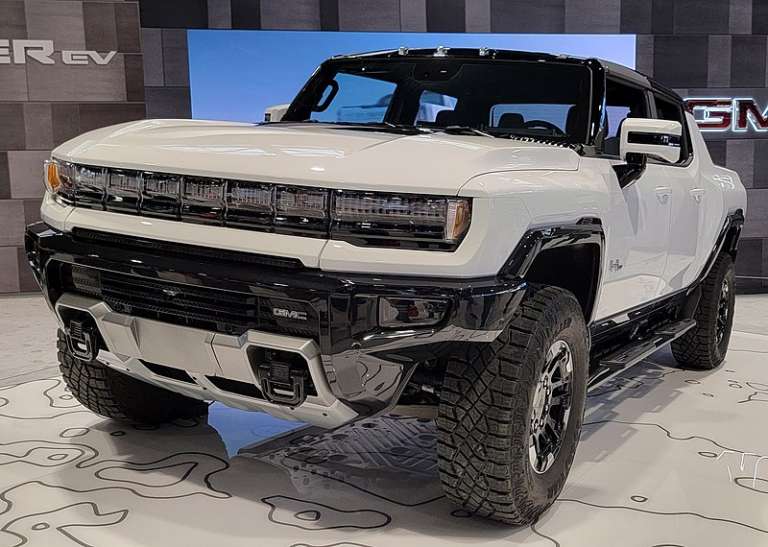 It's official – the world's first all-electric super truck is here.
The GMC Hummer EV brings the size and strength of a pickup truck within a sustainable electric vehicle.
But how is that possible? It's simple – they've utilized their decades of experience to create an innovative new electric vehicle, part of the company's effort to create a more sustainable future.
LeBron James promoted the company's electric vehicles as a "quiet revolution" in a Super Bowl ad this year, and critics rave about the innovative technology, though they do complain about the high price tag.
Keep reading to find out if the GMC Hummer EV is right for you.
What Types of EVs Does Hummer Offer?
GMC currently offers two Hummer electric vehicles: A pickup and an SUV.
Hummer EV Pickup
The Pickup is larger than the SUV and doesn't have quite as great of a turning radius. But one obvious feature the Hummer EV Pickup offers that its SUV counterpart doesn't is a truck bed. This provides more room to haul larger items, and ultimately sacrifices more seating for more storage.
Hummer EV SUV
The Hummer EV SUV is 20 inches shorter length-wise than the Pickup, and its wheelbase is about 9 inches narrower.
MotorTrend claims that the SUV "just might be the most capable electric off-roader on the market," adding that it gives the longtime favorite Jeep Wrangler a run for its money. But they did concede that the Hummer EV SUV is wider than the Jeep Wrangler, so it may be more limited on which trails it can handle.
What Unique Features Do Hummer EVs Offer?
Hummer's electric vehicles are equipped with a large variety of top-of-the-line features that make them stand out from the rest.
Energy Apps
All of GMC's Hummer EVs come with an in-vehicle app that can show you live energy usage, show your charging status, and create charging schedules.
They are also compatible with the myGMC mobile app, which can help you locate the nearest public charging station, monitor your vehicle's charge status, and plan your route.
CrabWalk
Both the Hummer EV Pickup and the Hummer EV SUV are equipped with GMC's revolutionary CrabWalk feature, which utilizes the vehicle's 4-wheel steer to turn all four wheels simultaneously. This allows you to turn diagonally while driving.
Extract Mode
GMC's Hummer electric vehicles have Adaptive Air Ride Suspension that can lift the vehicles up to six inches in the air. This feature can help you out if you're stuck and can help you avoid any obstacles in your way.
UltraVision
The Hummer EV Pickups have up to 18 camera views and the SUVs have up to 17. These HD Surround Vision cameras provide a great view of just about everything surrounding your vehicle, and they're waterproof. The company boasts this feature as a great way to navigate narrow spaces.
Super Cruise
All Hummer EVs come with a 3-year Super Cruise subscription. This service provides driver assistance and allows you to drive hands-free with an Automatic Lane Change function that works on more than 300,000 roads across the country.
How Do Hummer EVs Charge?
GMC offers a variety of charging options for its electric Hummers, both at home and in public.
Charging Your Hummer Electric Vehicle at Home
It's easy to charge your Hummer EV at home. GMC recommends that you plug it in at night like you do your cell phone so it's fully charged and ready to go when you wake up in the morning.
All of the company's Hummer EV Edition 1 Pickups come with a dual-level charge cord set that has a changeable plug compatible with both Level 1 and Level 2 charging.
You can charge your EV with either an alternating current (AC) or direct current (DC) receiving power. The energy grid utilizes AC to move power over long distances, but DC can be stored in batteries and are quicker to charge.
According to GMC, your vehicle has a converter to change AC currents from the power grid into DC while you charge at home or in public.
Charging Your Hummer Electric Vehicle in Public
GMC has more than 4,500 compatible charging stations nationwide, and you can find the one nearest you with the company's locator map or with the myGMC mobile app.
The charging stations can offer two different styles of charger: Level 2 charging or DC Fast charging.
Level 2 charging is the most common option, and it provides up to 16 miles per hour of charging for the 2022 GMC Hummer EV Edition 1 Pickup. The myGMC mobile app can help you plan your route to include stops at Level 2 charging stations while you shop or eat.
The 800-volt DC Fast charging is the fastest charging option, and it provides up to 100 miles per 10 minutes of charging for the 2022 GMC Hummer EV Edition 1 Pickup. This option is more efficient, but isn't offered at complimentary stations and requires payment.
Frequently Asked Questions
Let's dive into some frequently asked questions about the Hummer EV.
Does Hummer Have a Fully Electric Car?
Technically, yes! Hummer does not offer a fully electric sedan, but it does have a fully electric pickup truck and a fully electric SUV.
Does Hummer Have a Fully Electric SUV?
Yes! Hummer offers a fully electric SUV.
How Much Will the Hummer EV Cost?
The Hummer EV ranges in price from $80,000 to $110,000.
Which Hummer Models are Electric?
The Hummer EV Pickup and the Hummer EV SUV are electric.